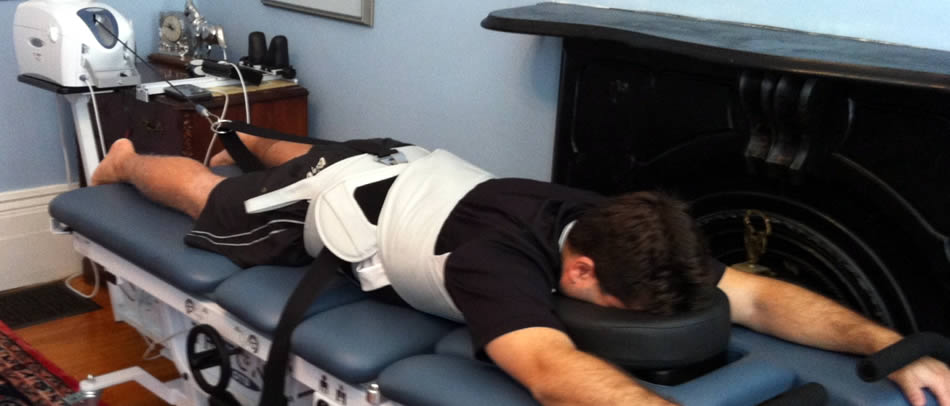 Either through accident or normal daily wear and tear spinal discs are prone to injury and degeneration. Spinal discs can become compressed through sitting, bending, lifting and carrying. This constant pressure may lead to disc herniation or bulges. Over time this results in the degeneration of the disc, which causes the disc to lose its ability to maintain its fluid level. Once a disc loses its ability to maintain its fluid level it loses its shock absorbing properties which may lead to such symptoms as lower back pain or sciatic pain.
What Is Spinal Decompression Therapy
Spinal decompression therapy is a non-surgical traction based treatment used to treat conditions such as disc herniations and bulges in the cervical and lumbar spines as well as sciatic pain. Most instances of lower back and/or leg pain can be safely and effectively treated with spinal decompression. When a disc becomes compressed, due to injury, it can cause pain and inflammation over the area of compression. If the compressed disc or inflammation impinges on a nerve (also known as a pinched nerve) it can cause pain to be felt in the extremities. For example, if an individual had a disc bulge or herniation in their lumbar spine it could possibly lead to sciatic pain (known as sciatica). Spinal Decompression can help alleviate the compressive forces acting on a herniated or bulging disc by creating a vacuum effect inside the disc. This effect causes the disc to "pull" the herniation or bulge back into a normal position as well as promote normal fluid flow into the disc which in turn will reduce or eliminate the pain experienced by the individual. Non-surgical spinal decompression is achieved through the use of a computerized traction device that controls the force and angle of distraction thereby relieving the compressive force acting on the discs, which reduces intradiscal pressure thereby relieving pain.
Symptoms That Can Be Treated By Spinal Decompression
Spinal Decompression Therapy can be utilized in the treatment of such complaints as:
Lumbar and Cervical Disc Herniation's
Lumbar and Cervical Disc Bulges
Sciatic Pain
Chronic and Acute Lumbar and Cervical Pain
Back Pain due to Osteoarthritis
Extremity Radiculopathy